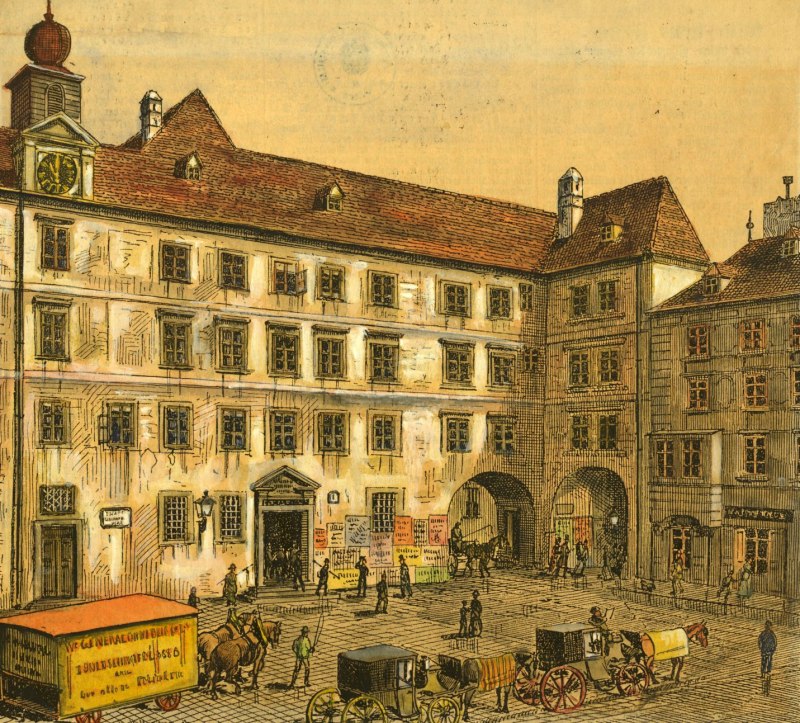 The history of Vienna University Library has always been linked closely to that of Vienna University -- starting with the foundation of the library in the year 1365, which makes it the oldest university library in the German-speaking area. The so-called "publica libraria" was originally located at what today is Universitätsplatz in Vienna's first district. The university was split into a number of faculties, and each faculty had its own library.
The library's holdings grew significanly during the 15th century. Soon, each library had its own "bibliothecarius", whose task was to protect the books from theft or damage. At the time, the books were chained to the shelves ("libri catenati"), and borrowing them was possible only in very special circumstances.
Due to the Ottoman wars in Europe and several plague epidemics, the importance of Vienna University declined during the 16th and 17th centuries. Along with the university's decline came the library's decline, and the monastery of the Jesuits took over the last remains of the university library, whose last books had been merged into the holdings of the Imperial court library in the year 1756.
It was only during the reign of Empress Maria Theresia, on 13 May 1777 to be precise, that the university library was reopened; its holdings consisted largely of the books from the dissolved Jesuit monasteries. The most valuable books remained at the court library. The new library was located in the Baroque library hall of the Jesuit College, and, contrary to its predecessors, was open to the general public. At the time it was also decreed that the university library was to answer directly to the state (not the university!); thus the head librarian's responsibility was directly to the respective minister. This was not changed until 1 January 2000, when the university library was put under the control of the rector of Vienna University.